Are Gutter Guards Worth It?
Valor Gutter Guards Protect Your Investment
If you are tired of climbing a ladder to scoop leaves out of your gutters, there is an answer for you. Gutter guards and covers are designed to be a filter over your gutters and block debris from entering your gutter without inhibiting the gutter's ability to draw water away from the roof.
Some gutter guards and covers are advertised as a cure-all solution to cleaning your gutters, buy many models may only block larger debris while allowing smaller debris to enter the gutters despite the shield.
Types of Gutter Guards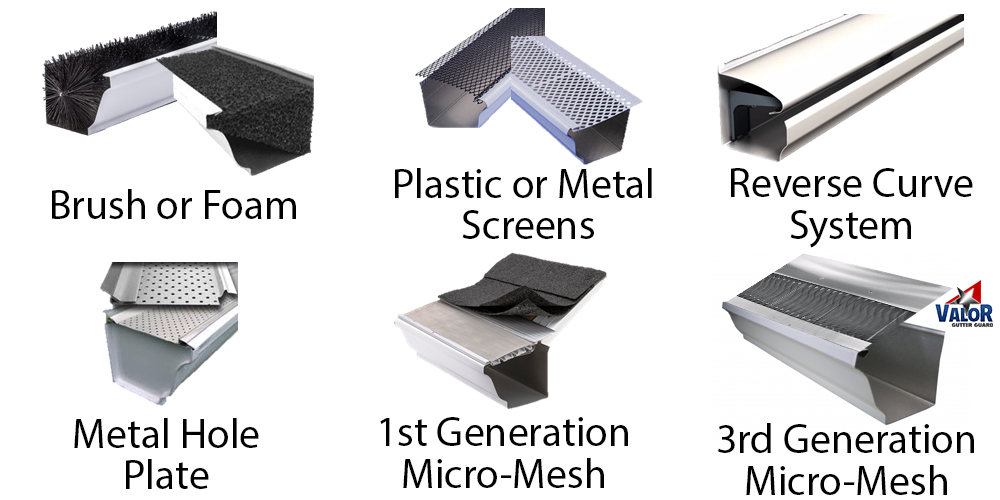 Brushes – Inexpensive "bottle brush" inserts are made of heavy-duty bristles.
(POOR quality and clog easily)
Foam – Foam gutter inserts are made from porous polyurethane.
(POOR quality and clog easily)
Reverse-Curve –  Surface tension pulls water around the edge of the nose into the gutter, while pushing leaves to the ground.
(POOR water goes over the guard, not into gutter)
Metal Hole Plate – Perforated metal guards fit under shingles and cover the gutter.
(OKAY catches debris and acts as a shelf)
1st Generation Micro-Mesh – Super-fine mesh screens were designed to eliminate the problems with perforated metal covers.
(GOOD not good for high flow)
3rd Generation Micro-Mesh – New fine mesh screens take in more water than the 1st generation and still keep debris out.
(BEST effective, attractive, highly functional)
---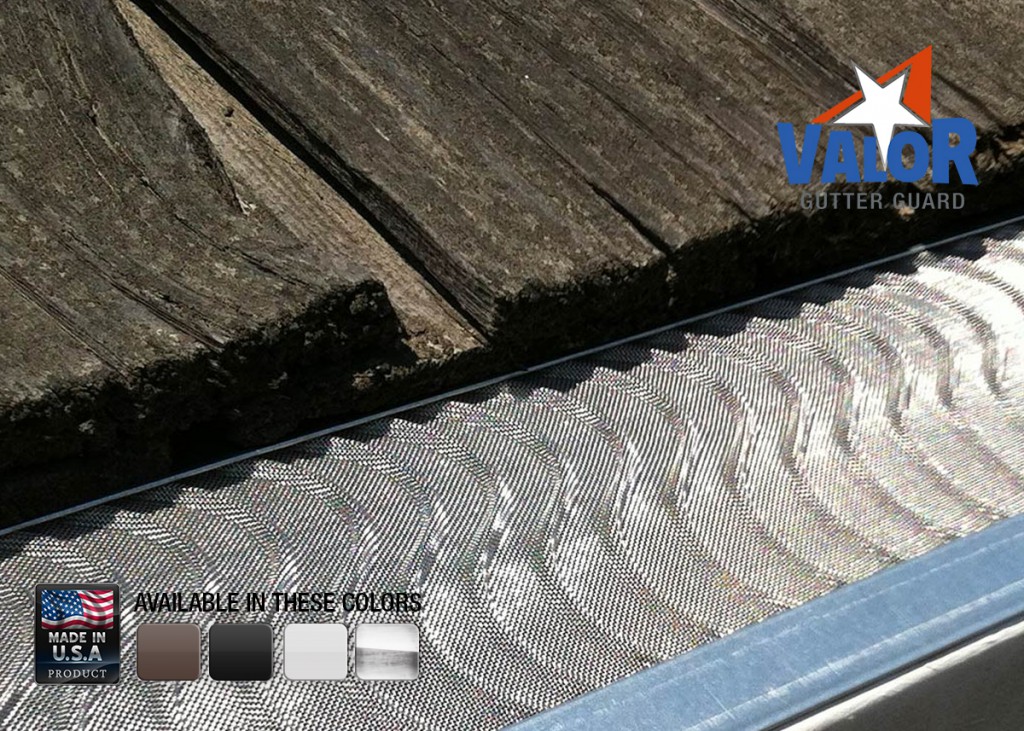 Why Install Valor?
Valor gutter guards have a sleek design with an elevated, pressed mesh pattern that breaks water tension even from high rain flow. The patented S-shape design captures all water flow as it drains from the roof while preventing debris from entering the gutter at the same time. This design prevents the fascia boards from dampening, in addition to protecting the foundation from ground saturation due to heavy flow runoff.
The NCR has found that Valor sets a new bar for performance and price with the total cost of install being the lowest among the micro-mesh category. To find out more about Valor's pricing and installation, follow the link below.
Find an installer
---
Valor's 5  Star  Gutter Protection Rating
The NCR rated Valor Gutter Guards highest in five out of five categories: performance, reputation, protection, strength, and durability. Valor has come up with a clever design and manufactures 100% of the gutter guard product in the U.S. The guards are extraordinary well-made and the NCR was surprised to find out that they are price competitive with many of the foreign-made micro-mesh counterparts. The NCR has tested the product multiple times alongside competitors and thus far, Valor has stood up to every test.
---
Get a Quote Today!
---
Ready to Become a Valor Dealer?
Whether you're a contractor looking to enter the Gutter Guard market, or you currently carry and install a Gutter Guard, Valor Gutter Guards can revolutionize your business. With an established brand, a quality product, and high margins; Valor Gutter Guard is the opportunity for you.